Foreign business owners and employees are aware of the work permit and visa challenges that currently exist in Thailand.
There is hope some of these pain points can be lessened as the government looks to implement digitalisation and aims to become more attractive to overseas businesses. The process of bringing foreign employees to Thailand has remained largely unchanged for almost 50 years. This has caused an untold number of headaches for businesses over that time and is now hampering the government's own Thailand 4.0 vision and its aims to encourage more investment from overseas.
Despite the pressing need for change, little attention has been paid to the cumbersome work permit and visa processes. According to Mr Bob Fox, Regional Director at a trade and investment consultancy, these are also hampered by inconsistency and a lack of harmony between the Thailand Immigration Bureau and the Department of Employment in the Ministry of Labour. "There is a need to change the mindset in some areas. The siloed approach creates too many conflicting interests," Mr Fox states. "All good digital governments have an accepted level of truth relying on user-stated facts and then place heavy penalties on false statements. Thailand doesn't have this approach. You have to prove every last detail to multiple government agencies."
The required burden of proof puts a strain on businesses operating in Thailand, noticeably SMEs who must invest their limited resources on obtaining and maintaining work permits and visas. "It takes our human resources staff two days to prepare the required visa and work permit documents for each of our foreign staff," Felicia Design Managing Director Ms Vibeke Lyssand Leirvåg notes. "Most of the paperwork is either redundant or has been submitted previously and has remained unchanged. All of it must be delivered in person as well. That isn't really acceptable."
Another issue Ms Leirvåg and foreign-owned SMEs face is bringing in skilled foreign workers for training or other short-term projects. A desire to reskill or upskill local staff is made difficult due to rigid regulations and a lack of clarity when it comes to issuing temporary visas and work permits to this group. Situations like these, as well as other grey areas, make compliance very challenging, especially for SMEs. "Reforming laws that could result in legal avoidance must be looked at. In some cases, there are contradictory laws," Ms Leirvåg says.
Starts and Stops
The SMART Visa system was a step in the right direction when it came to solving some of Thailand's work permit and visa issues. Launched by the Thailand Board of Investment (BOI) in 2018, the program looked to attract highly skilled manpower and investors in the country's thirteen targeted industries. However, take up of the SMART Visa since it was first launched three years ago remains limited due to cumbersome requirements. Only about 1,000 visas have been issued, but nearly 20 percent of that total went to spouses and children of visa holders, according to statistics. The newly proposed Long Term Residents (LTR) scheme plans to attract a large number of wealthy foreigners in four categories and is expected to benefit to the economy. However, it is for targeted groups who meet wealth and/or income requirements and does not address the ongoing issues many business owners face. "Without fundamental reform, the economy will struggle to build skills and attract talent needed to support business growth, let alone support higher-vision objectives such as Thailand 4.0," Mr Fox says. Another effort that started out with promise but has since hit a few bumps in the road is the Regulatory Guillotine in Thailand. Formed in 2017, there was a belief this body could make progress on key ease of doing business issues, including improvement of work permit and visa processes in the space of a few years. Not much tangible has been implemented on the front, although there is positive progress.
"In 2019, the Thai Regulatory Guillotine identified 1,094 recommended changes that were ready to implement. For various reasons, progress stalled. A re-start occurred in September 2020 with the establishment of a Fast Track Regulatory Reform Committee and nine subcommittees," Mr Fox reports. Some progress has been made on the digitalisation front, such as online filings being now accepted by the Ministry of Finance and the online BOI application process. The BOI, in particular, has been proactive in making life easier for foreign firms operating in Thailand.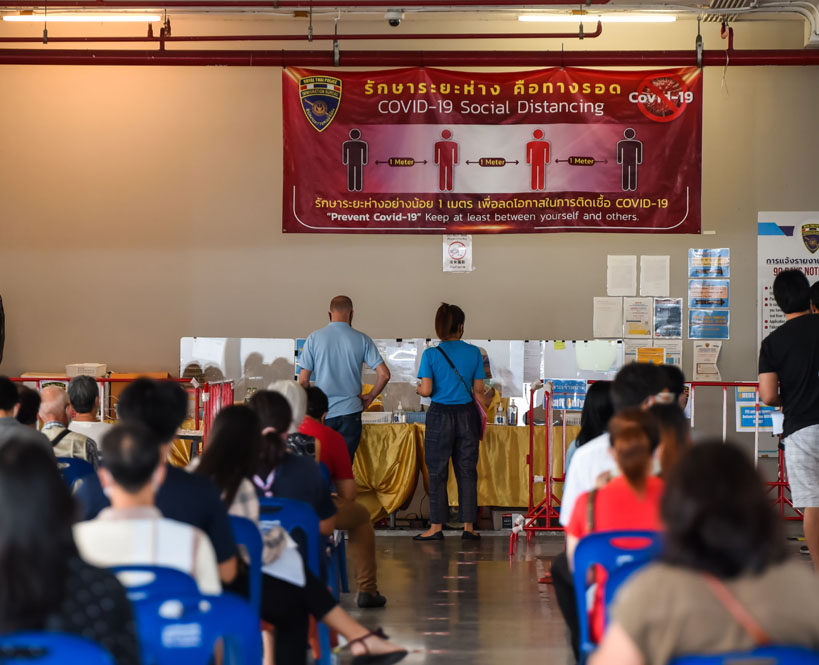 Above: Despite the pandemic, physical visits are still required for some procedures with Thailand's Immigration Bureau.
Wasted Opportunities
Ongoing work permit and visa challenges results in Thailand means the country is not capitalising on the advantage it has over others in the region. "Thailand has a natural advantage as the geographical centre of Southeast Asia that can be developed and used to national advantage for goods and manufacturing. But in the digital world, the winner will be the economy with the most efficient, resilient, and innovative digital economy and digital services, and which embraces the services sectors," Mr Fox explains. "This means digitalised government and all processes normally done digitally, not as an exception. Thailand is not there yet." While large businesses in more traditional sectors may be willing to deal with cumbersome processes because of the country's strategic location, tech firms or other companies used to a certain level of digitalisation are more inclined to go elsewhere.
Nowhere is this more evident than in the startup space. Flash Group became the first Thai unicorn, a startup company with a value of USD1 billion or greater, in 2021 after a decade of trying. Singapore saw 10 firms reach unicorn status between January and October 2021 alone. One difference between the two countries is that Singapore has embraced the digital economy and is providing the digital services these businesses need to survive and thrive. "Thailand should be a hub for startups, but 80 percent of these are in Singapore. Thailand has so much raw creativity. This needs to be turned into something and commercialised," he explained.
Small Steps
Attracting startups and encouraging more foreign investment starts with making it easier to operate in Thailand. While larger, more fundamental changes seem unlikely in the short term, there are opportunities for small victories that can eliminate known pain points. Mr Fox cites the passing of the Royal Decree on Teleconferences through Electronic Means B.E. 2563 as one such victory. This new law, which passed in response to lockdowns brought on by the COVID-19 pandemic, makes it possible to legally convene board and shareholders' meetings digitally with no more limits on the physical location of attendees. "It is an elegant solution but the technology requirements brought in later are cumbersome," he says.
Next up could be addressing the many redundancies and superfluous items required under the current work permit and visa process. "One first step would be to change 90-day reporting to reporting a change of address only or reduce it to once per year. The medical certificate needed for a skilled work permit and the redundant paperwork required for foreign staff. Another example which the COVID-19 situation highlights is having to leave the country in many cases to apply for a Non-Immigrant B or business visa. There are a number of things everyone agrees need to be reformed," Ms Leirvåg says. She continues, "Beyond that, it is about identifying areas where minor adjustments would lead to noticeable benefits. One example of this is more flexible short-term work permits for skilled foreign workers. Transfer of know-how is essential to Thailand's economy. Companies wanting to bring someone in from overseas to train or upskill staff are limited in their ability to this. A small improvement to this system could have a positive effect when it comes to developing Thailand's workforce."
Facts
JFCCT has published a report on duplications under the current work permit and visa process with three remedies: CUT/COMBINE/EASY-ONLINE.
The BOI launched a SMART Visa system in 2018 that targeted 13 industries
Only about 1,000 SMART Visas have been issued since the program first launched
A new Long Term Resident scheme may bring economic benefits
The LTR scheme and SMART Visa program only address a few of the ongoing visa and work permit issues for the business community
In 2019, the Regulatory Guillotine identified 1,094 recommended changes, ready to implement
Fast Track Reform, including the Regulatory Guillotine, re-formed from September 2020
The Electronic Meetings Decree permits board and shareholders' meetings to be conducted digitally
For other interesting articles from our members, please visit our website.