Thai-Norwegian Chamber of Commerce's COVID-19 Page

The current corona virus situation have hit most businesses, some harder than others, some in different ways than others. After health, safety and security of family, friends and colleagues, business contingency is foremost on our mind.
Business Contingency Survey
The Thai-Norwegian Chamber of Commerce is concerned for its members and would like to offer the Chamber's help in advocating and bringing forward issues of company concerns to the Thai government through the Joint Foreign Chamber of Commerce and Thailand's Board of Trade.
The survey can be found here: http://bit.ly/2TZoKvG
In order to understand your situation, it would be appreciated if you can briefly highlight issues of concern for your operations in Thailand so that we can put together a summary to be used anonymised in the communication with the Thai authorities.

Deadline for the survey is midnight Thursday, 26 March 2020.
Sources of Information
The below links are those mostly referred to. We bring them so you have them easily at hand:
Legal considerations in connection with privacy issues
Tilleke & Gibbins, a Corporate Member of the Thai-Norwegian Chamber of Commerce has kindly shared the following legal opinion on a number of issues linked to Thailand's Personal Data Protection Act (PDPA) and the COVID-19 situation. See further here
Further Information
The Royal Thai Government has implemented enhanced screening and quarantine measures to reduce the spread of COVID-19. Travellers should be prepared for travel restrictions to be put into effect with little or no advance notice. All foreign citizens who are considering returning to their home country are urged to work with their airlines to make travel arrangements while flights are still available. On 13 March 2020, the Thai Government's Ministry of Public Health added a number of countries including Norway to its list of countries with ongoing local transmission. Travellers entering the Kingdom of Thailand who have been in these countries within the prior 14 days are subject to self-monitoring and reporting requirements upon arrival.
Effective as of midnight Sunday, 22 March, The Thai government now also requires such travellers to have a health certificate issued within 72 hours before arrival in Thailand certifying that they are "free of corona virus," as well as proof of medical insurance with at least USD 100,000 of overseas coverage. The health certificate must certify the traveller has displayed no evidence of acute respiratory infection in the 48 hours prior to departure from abroad. The self-monitoring and reporting requirements upon arrival in Thailand remain, even with the health certificate and health insurance. All foreign citizens must prepare themselves to produce these two documents if they wish to be allowed to arrive in Thailand after Sunday 22 March. The local foreign embassies are not in a position to assist with regard to these documents.
All travellers arriving in Thailand will also be required to download the AOT Airports Application. Once the app is downloaded, travellers must fill in the required information in the COVID-19 Inbound Passenger Control Section and present this to immigration officials at all international airports. In addition, passengers arriving from abroad must complete the T8 form which can be downloaded here. Thai Government Ministry of Health requirements are available on its website. Visit the Ministry of Public Health website for additional information on these new measures.
Many travellers worldwide have reported unexpected flight cancellations and limited flight availability. Please check with your airline or tour operator regarding any additional requirements to board, as individual companies may have their own requirements.
Many embassies and foreign governments are recommending that their staff in Thailand avoid mass transportation (including the BTS and MRT rail systems in Bangkok, buses, and domestic airline flights) and entertainment venues, and use personal vehicles for transportation domestically. All staff are also encouraged to avoid gatherings of more than ten people, and to practice social distancing.
The Thai-Norwegian Chamber of Commerce as part of Thailand's Board of Trade have issues prevention guidelines below: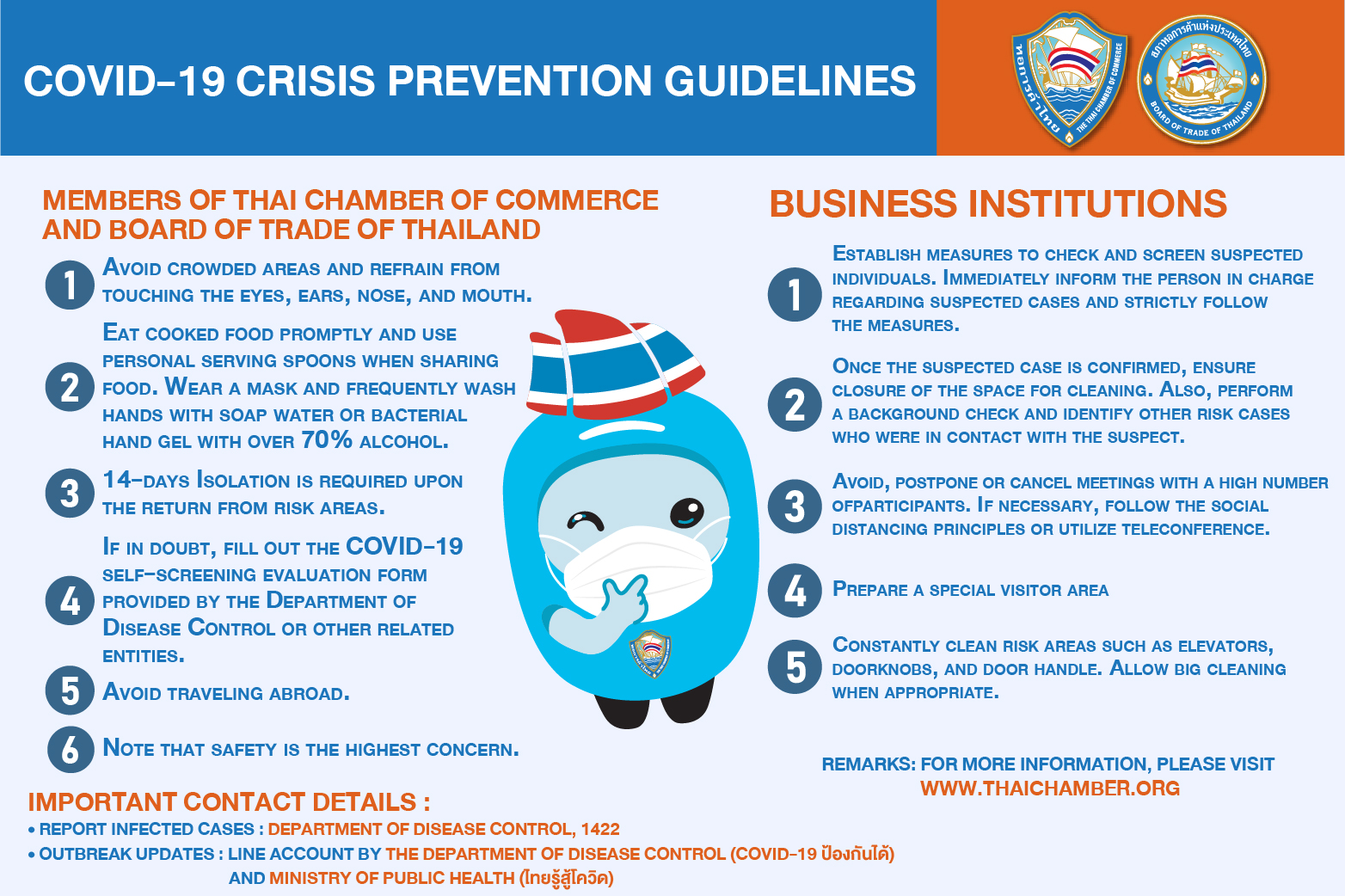 Take care and may the world recover from the Corona virus pandemic soon….