Seafood under the Stars 2020
Our biggest event of the year is coming up, Seafood under the Stars 2020!
Seafood under the Stars is an annual event held in the garden of the Norwegian Ambassador's residence in Bangkok. Fresh Norwegian seafood is flown in for the occasion. This is the Thai-Norwegian Chamber of Commerce's flagship event with more than 250 high-profile guests and important stakeholders of Norwegian companies in Thailand. The event is set against a background of promoting Norway as a tourist destination and as a seafood nation. Against this background it is a perfect opportunity for the chamber members to invite their local customers, clients and associates as well as their colleagues and friends for a grand networking dinner. Do not miss out the most highlighted event of the year.
Date: Thursday, 16 January 2020
Time: 18.30 – 22.00 hrs.
Prices:
Members: Baht 5,000 + 7% VAT
Table of ten: Baht 48,000 + 7% VAT
Non-members: Baht 5,500 + 7% VAT
Prices include buffet dinner with live stations and free flow of drinks.
RSVP: [email protected] by 9 January 2020.
About our New Nordic starred Chef Fae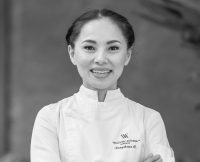 Chef Rungthiwa "Fae" Chummongkhon spent the last 12 years of her career in Denmark and other countries in Europe. Whilst training she worked under Michelin Chef Wassim Hallal at Frederikshøj and graduated from a three-star restaurant, La Belle Époque in Germany. Her experience in Europe includes several Michelin starred restaurants, including her last post as Executive Chef at Kokkedal Slot Copenhagen. Chef Fae's culinary style is a combination of "New Nordic" and Thai. Her food is a combination of opposites: new and traditional, western and Far East. She uses Thai cooking techniques in traditional Scandinavian cuisine – and vice versa – to create original visual and contextual flavours and impressions that are at once innovative and yet familiar to diners. Chef Fae is now a head chef of Front Room, a Thai – inspired Nordic restaurant at Waldorf Astoria Bangkok.
A unique variety of quality seafood from fjord to fork!
Norwegians are known for their long fishing traditions in the cold, clear waters of the north. The variety of seafood from Norway's long coast is nothing less than unique. This is a major reason why Norway today is one of the largest exporters of seafood in the world. And that's also one of the reasons why chefs and connoisseurs from all over the world choose seafood from Norway. Fresh Norwegian seafood is being flown in for the occasion. This year, Norwegian Seafood Council are generously sponsoring a variety of Norwegian seafood, which Chef Fae will give some tender loving care through her new Nordic inspired dishes. The evening will feature two live stations by Chef Fae. In addition, Thammachart Seafood is sponsoring a live station. And if that is not enough, we will serve an abundance of Norwegian seafood: salmon, Fjord Trout, halibut, Skrei (cod) and mackerel dishes. We have never flown in so much Norwegian seafood for one occasion previously.
Beverage Partners
We would like to thank Carlsberg, Vanichwathana and Bangkok Beer & Beverages for sponsoring part of the drinks at the event.
Time
18:00 - 22:00
Address
74 Sukhumvit 38 Alley, Phra Khanong, Khlong Toei, Bangkok, 10110, Thailand