World Cleanup Day 2019
On Saturday, 21 September 2019, members of the Thai-Norwegian Chamber of Commerce and staff of the Royal Norwegian Embassy in Bangkok join hands with Trash Hero Bangkok to collect trash in connection with the World Cleanup Day 2019 initiative.
The Thai-Norwegian Chamber of Commerce is taking on a more prominent role in Thailand's foreign business community in order to support actions today for a clean and green Bangkok tomorrow.
One of these actions is to play an active role in the Joint Foreign Chambers of Commerce in Thailand (JFCCT)'s Sustainability Committee in order to push sustainability issues to top of the organisation's agenda at all times. Thai-Norwegian Chamber of Commerce have two members of JFCCT's Sustainability Committee: the CEO and founder of Starboard, a board manufacturer in Thailand, Svein Rasmussen and Eirik Mork Knudsen, Aibel Thailand's HSSE Manager at the plants in Thailand.
Svein Rasmussen is a world-class leader pushing sustainability issues in the region and is one of the persons behind Trash Hero Bangkok which has received global attention for their work.
The Thai-Norwegian Chamber of Commerce is proud to work with Trash Hero Bangkok on World Cleanup Day 2019.
Schedule of Activities on World Cleanup Day, 21 September 2019
09.00 – 09.15 Meet at Taco lake
09.15 – 10.00 Welcome speech and introduction of Trash Hero Bangkok
Briefings how to collect trash
Briefings how to paddle boards and collect trash
10.00 – 11.30 Clean up session 1
Group 1: Walk on the road through the soi to Wat Bangplee Yai Nai
Group 2: Paddle boards in the canal from Starboard HQ to Wat Bangplee Yai Nai
11.30 – 12.30 Clean up session 2
Group 1 takes the bus back to Taco Lake
Group 2 paddles boards back to Starboard HQ
Group 1 and 2 sort trash and weigh trash and record amount of trash
Keep recyclable trash
Move other trash to the trash truck
What to bring:
Rubber gloves and/or trash pickers*
Comfortable footwear
Raincoat/Umbrella/Hat
Reusable water bottle
Bring your lunch box (non-plastic packaging). Note: no plastic straws/bags/cups/spoons, please bring bamboo/aluminium straws/cutlery set instead. Volunteers should bring their own water bottles, fabric bags, and reusable lunch box*
Insect repellent spray*
Rubbish bags or reusable rubbish bags*
Single-used plastic not allowed!
Please wear comfortable clothing that is easy to move in, for example sports clothing and clothes you do not mind getting dirty. There will be a lot of bending down and picking up trash in the daylight, it may be hot or raining so prepare for both and check the weather beforehand.
Insect repellent, bamboo/aluminium straws/cutlery water bottles, fabric bags, and reusable lunch box. Can be purchased at Better Moon and at Eco Select, Siam Discovery, Floor 6. Trash pickers can be kitchen tongs you can purchase in any kitchenware store. Reusable bags, we are supplying some but it would be helpful if another local recycling centre could contribute even more sugar or rice bags.
Inform us to join the event via Facebook page: Trash Hero Bangkok
Contact person in Thai: Tarn ([email protected])
Contact person in English: Tasmin ([email protected])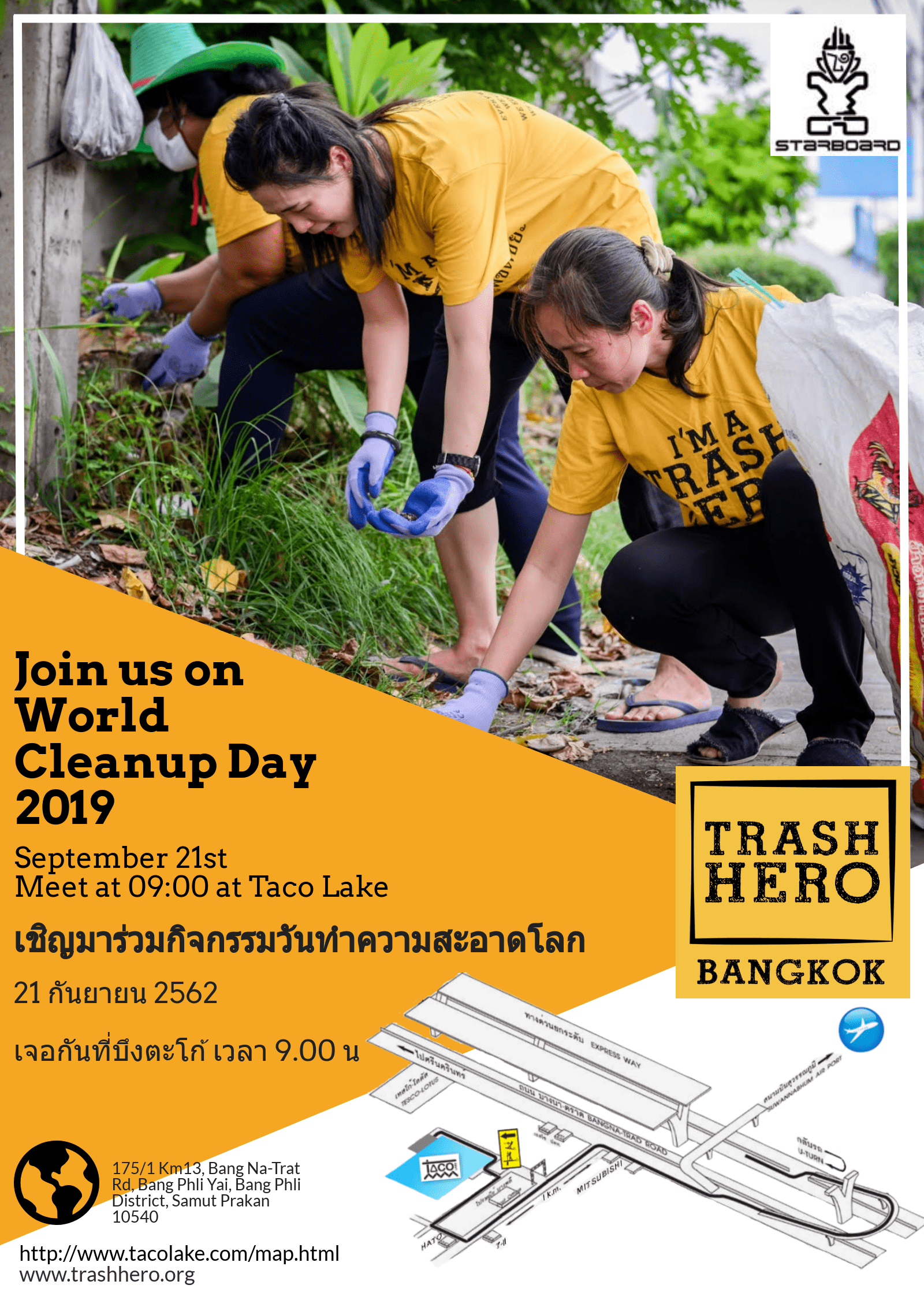 Time
09:00 - 16:00
Address
175/5 หมู่ 12 ซอย สุกไสว2, บางนา ตราด กม .13, 10540, Thailand