The Real Future of Healthcare
Robots won't be replacing doctors, nor will AI be making medical decisions in place of people.
At Samitivej Hospital, the future of healthcare is experience driven. Technology is in conjunction with real world knowledge to better manage treatment and ensure higher success rates. "In addition, technology allows us to and create closer relationships with our patients", says Dr Chairat Panthuraamphorn, CEO and Managing Director at Samitivej Hospital.
When he assumed the role of CEO in 2014, he created teams to think about the future operating model of the hospital. The goal was to centralise all efforts around digitalisation of healthcare. Being ahead of the curve ensured it was prepared for the unexpected. "In March 2019, we were the first private hospital in Thailand to launch a telemedicine platform and COVID-19 has obviously seen its usage expand. One thing we have realised is that we aren't going back to the old ways, so it is important we build upon our new platforms," Mr Nicolas Leloup, Samitivej Hospital Head of International Marketing, states. "We will use online channels even more in the future. It allows doctors to have a closer relationship with patients. For example, wearables can monitor health data and trigger alerts for a nurse or doctor who can then reach out to them directly."
Big data and artificial intelligence (AI) are two more key components of digitalisation. While Samitivej is only scratching the surface of their potential, each part of the hospital's innovation roadmap. "AI and Big Data should be part of the same vision as they complement each other. However, in its early stages, we see that big data is more planned at the corporate level with our CEO's vision and capital expenditure allocation. AI is used more in medical applications by our doctors," Mr Leloup reports. "And it makes sense because big data requires a full transformation or at least adaptation of our IT infrastructure and capabilities."
Why AI?
Samitivej is now actively using AI technology in its facilities after testing the EndoBrain-EYE and EndoBrain programs for over a year. It aids in diagnosis of collorectal polyps during colonoscopies with the software alerting doctors to potential complications either in real time or during recordings. In addition to this, AI is also being used to analyse imaging from MRIs and other scans. It can assist radiologists in locating issues by identifying patterns from similar patients which allows them to make a more informed diagnosis. Of course, this has led to some misconceptions about the role doctors are left to play.
"I would like to say that AI is not here to replace doctors. It is here to help doctors. It's a tool that allows doctors to solve more complex problems, reduce the trial-and-error period, bring better care to patients, and, in the long run, reduce the cost of treating one disease," Mr Leloup notes. He does admit that there was some initial scepticism about the new AI tools at first which is why the hospital tested the programs for more than a year. This provided doctors with time to learn what was behind the AI and how the algorithm made recommendations.
Data Driven
There is still a long way to go before the power of big data can be harnessed in Thailand. The country's historic reliance on paper documents and the high costs of digitalisation means it won't be easy to fully implement. "It is a huge and costly undertaking to transition and convert to full electronic data, capture all data points, have a clean database, and develop the capabilities to accurately model and leverage all this data. Not to mention all the IT infrastructure required to support data acquisition and processing," Mr Leloup states.
However, its eventual effect cannot be understated with Mr Leloup pointing out that successful big data implementation will provide doctors and medical facilities with much more knowledge. Some of its applications are simple yet vital, such as improving staffing efficiency. Others, like cancer treatment, are more complex. "One example of big data's usage is the building of predictive profiles to help with oncology, the study of cancer. Treatments tend to be done individually through trial and error. It is a process that can take time. When you have big data and a profile of similar patients, it can help provide a better starting point," Mr Leloup explains. "When there is a predictive profile, you are able to make a more informed decision. Saving time allows us to better manage treatment and creates higher success rates."
Perhaps the biggest challenge facing the use of big data is related to privacy. Mr Leloup acknowledges that while these concerns are valid, both the hospital and healthcare sector as a whole have several strong safeguards in place. "The data itself needed is not tied to a single person. There isn't a lot that can be done with one person's data," Mr Leloup points out. "Additionally, healthcare is a heavily regulated sector and patient privacy rights are at the core of how we treat private personal medical information. Moreover, like all companies, we comply with GDPR requirements."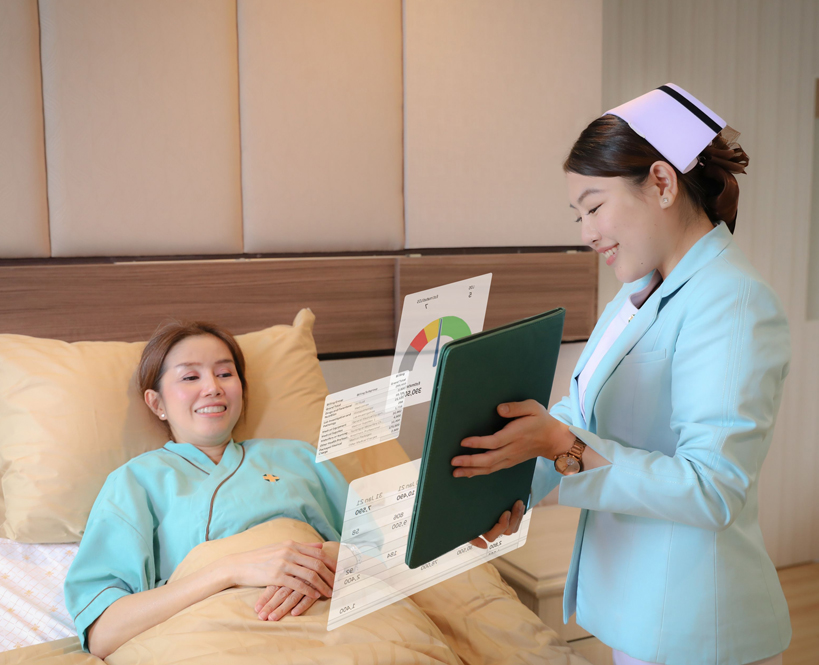 Big Data will eventually be used to create predictive profiles that can help with oncology.
Human Element
Innovation isn't limited to technology. New techniques and programs can be just as transformational. In 2007, Samitivej Hospital was the third hospital in Thailand to receive JCI accreditation. Today, there are more than 60 JCI accredited hospitals in the Kingdom. Samitivej wanted to go beyond this standard and enhance the quality of care it could provide. This led to the launch of the Medical Affiliation Program with overseas hospitals.
The innovative exchange program began with Sano Hospital in Japan and focused on gastrointestinal health and collorectal cancer, an area that was limited in Thailand. It has proven to be extremely successful with Samitivej's adenoma detection rate (how often a physician finds precancerous polyps during a colonoscopy) improving from 25 to 70 percent. "Many doctors in Thailand don't have expertise in colonoscopies," Mr Leloup says. "Japanese doctors came to Thailand where they helped their Thai counterparts build up knowledge and learn from experience. Meanwhile, the doctors from Japan had the opportunity to see Thai patients which provided them experience with cases that may not be prevalent in Japan."
In 2015, a partnership with Doernbecher Hospital (OHSU) in the United State was established. As the first private children's hospital in Thailand, it was important for Samitivej to learn from one of the pediatric and neonatal intensive care units in the world. The skills and knowledge acquired have been put to good use. "For neonatal aeromedical transportation, we have been able to pick up prematurely born babies that were in facilities which couldn't provide the level of care required," Mr Leloup details. "We have done several missions in Thailand or neighbouring countries for babies born at 900 grams or lower. The lowest birth weight baby born at Samitivej is 500 grams. The progress made over the past 10 years is incredible."
Putting It Together
The real future of healthcare isn't one piece of technology or one program. For Samitivej, it's about bringing these innovations together to prevent health issues instead of treating sick people. In order to accomplish this, the hospital is focused on expanding service and not space. According to Mr Leloup, advancements ensure the quality of care is the same, if not better while offering a richer experience overall.
"The healthcare sector has grown bigger and bigger over the last 100 years. A lot of this has been space related. We always needed more facilities. Now with new technology, you don't need more or bigger hospitals," Mr Leloup explains. "The goal now is to create a more distributed health network where experts help manage your healthcare on an ongoing basis. Primary care can be done remotely. Tertiary care will be minimised and specialised. Technology is accelerating this trend."
Samitivej's efforts in the innovation space have been recognised with several honours including Best Smart Hospital Thailand in the Asia-Pacific region at the GlobalHealth Asia – Pacific Awards 2021. And while the hospital is proud of this, Mr Leloup believes there is still a lot of work left. "We are just at the beginning of the journey. Even so, I am impressed at how every stakeholder in the hospital has embraced the challenge. But this is an effort that still needs structuring and work," he concludes.
Facts
Samitivej Hospital was the first private hospital in Thailand to launch a telemedicine platform
The Medical Affiliation Program allows Samitivej to learn from and share knowledge with overseas hospitals
Samitivej is now actively using AI technology to analyse imaging from MRIs and other scans
The hospital tested its AI program for more than a year before implementing it
Samitivej won Best Smart Hospital Thailand in the Asia-Pacific region at the GlobalHealth Asia – Pacific Awards 2021
For other interesting articles from our members, please visit our website.