As Jotun continued in its fight against fouling, the paint and coating manufacturer realised it needed to think bigger. In the end, product evolution wasn't going to be enough.
Jotun embraced what it has dubbed the Revhullution in order to help shipowners improve performance and sustainability. Fouling has been a problem for seafarers from the moment boats hit the water. Various organisms attach themselves to the submerged parts of a vessel. This creates drag which slows ships downs. Greek philosopher Plutarch was among the first to document the problem in 100 AD. The issue has become more pressing in modern times due to ships operating on marine fuels as opposed to wind or manpower. The environmental impact of fouling is significant. According to research from IMO Glofouling Partnerships, a thin coating of 0.5-millimetre slime covering up to 50 percent of a hull surface can cause greenhouse gas emissions to increase by 20-25 percent.
Jotun has been a leader in antifouling technology with its paints and marine coatings. In 2011, the company launched Hull Performance Solutions (HPS) which combined products, services, and monitoring into a single offering to assist ship owners and operators more efficiently. "Solving the age-old challenge of fouling is at the forefront of what we do. Following the success of our first solution, HPS, we began to realise that chemistry and coatings alone is not the only answer to this challenge. Augmenting coatings with modern disciplines like data analytics will be the way forward," Jotun Thailand Managing Director, Mr Shygil Moideen, says.
This would lead Jotun to develop Hull Skating Solutions (HSS) and usher in what it calls the Revhullution. The proactive cleaning approach is engineered to keep a ship's hull free of fouling at all times. HSS features five elements including the company's latest innovation, the Jotun HullSkater. The device looks and works a bit like a robotic vacuum. When a ship is docked or anchored, it can be deployed to conduct inspection and clean the hull whenever necessary. To accomplish this, the machine is equipped multiple cameras and soft brushes that remove fouling without damaging the coating.
"The HullSkater is similar to controlling a remote control car. It has steel wheels with magnets, so it stays connected to the hull at all times. It captures videos and photos which provide data on what type of fouling is occurring and proactively cleans," Mr Moideen states. And while the HullSkater garners the most attention, it is part of the larger HSS which showcases Jotun's ability to combine data, knowledge and innovation into a single solution that benefits shipowners.
"The idea of HSS was conceived with the adoption of a multidisciplinary approach combining data analytics, advanced robotics and our experience in fouling management. We were also able to work with industry partners and experts, such as Kongsberg Maritime, to further our pursuit for the best solution," Mr Moideen explains. "HSS is a testament to how we think outside of the box and beyond the paint in the paint drum, to address the age-old challenge of fouling."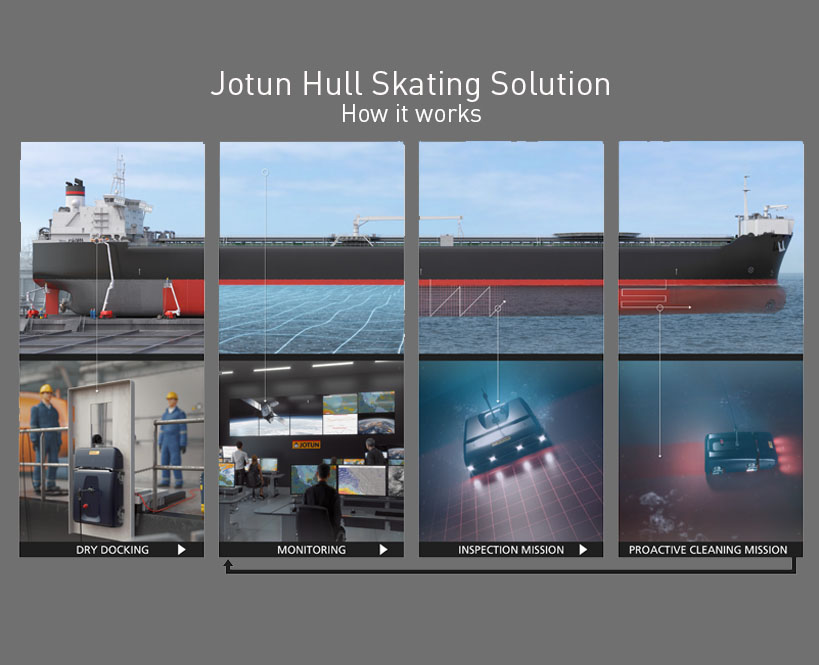 The technology behind HSS is empowering ship operators with the ability to be proactive in the fight against fouling for the first time in history. Instead of waiting around for its effects to be felt, it is now possible to prevent them from happening, through the use of big data and our proprietary fouling risk algorithm.
"The essence of being proactive is to actively prevent or eliminate a problem before it happens," Mr Moideen points out. "The implication of being reactive is that you will already experience a problem, like an increase in fuel consumption, before you decide to act on it by engaging a diving company to conduct cleaning. This process takes time and planning, and you would have already been incurring the burden of paying for additional fuels during the interim."
"Cleaning a hull is a tedious task that requires slow, physical work. We have replaced this with robotics. The process can now be done at anytime from anywhere. You are minimising safety risks while driving efficiency as well," Mr Moideen proclaims.
Revhullution Response
HSS has slowly been rolled out with the COVID-19 pandemic disrupting plans for a large-scale launch. At the local level, the company has begun presenting its newest innovation to firms in Thailand. Many were astounded to see Jotun going beyond paint and coatings. "There is definitely a wow factor among the customers who have seen HSS in Thailand. They are used to paint companies talking about chemistry. They are surprised when we start mentioning big data, analytics, and algorithms," Mr Moideen reports. "Overall, the customer presentations have gone great, and the response has been overwhelming. No one has committed yet but there is a lot of interest."
While HSS left a positive impression on those who have seen demonstrations, legality was an area of concern among some shipowners and operators. According to Mr Moideen, Jotun is making progress in ensuring worldwide compliance. "We are working very closely with port authorities globally on this, and we have gained approvals for skate operations in key ports and anchorages all over the world," Mr Moideen says. "We have active vessels with HSS and have proven that we are able to get approval from port authorities to conduct the hull skating operation."
Jotun's Revhullution is another milestone for the company in its longstanding quest to equip the shipping industry with better antifouling products. However, the unique scope and nature of HSS has made it an exciting development internally as well. "In one way, this was new to us, and it was very exciting. On the other hand, we are always looking at ways we can support the shipping industry, and this is very much aligned with that goal," Mr Moideen says. "I am sure in the near future, you will hear of more new products and services to challenge the norm and further help in the industry's decarbonisation effort."
Sustainability Now
A desire to assist the shipping industry in reducing greenhouse gas emissions is simply one instance of Jotun's far-reaching sustainability efforts. In 2011, it launched Jotun GreenSteps, a programme aiming to improve environmental performance across the board. The company is not afraid to make difficult decisions to reach environmental goals. For example, it phased out lead chromates from all paint and coatings globally in 2014 despite the fact these products were selling well at the time.
"Sustainability is in Jotun's DNA. We have always been bold in making environmental decisions that are responsible. We want to provide the right solution. One of our challenges is to educate customers on this. We are seeing more and more firms in the marine industry thinking about sustainability," Mr Moideen points out.
He continues, "Jotun has a clear strategy when it comes to sustainability that covers our products and operations. When we are searching for new innovations, we are always looking at taking our GreenSteps. One question we are constantly asking ourselves is 'is this more environmentally friendly than our existing products?' We only progress if the answer to that question is yes."
These efforts can prove to be more challenging in a country like Thailand where cost is still driving most business decisions. Mr Moideen is optimistic that the tide is turning, however, with more companies in the Kingdom now aware of their environmental responsibilities. "In Thailand, the environment and sustainability are becoming priorities, but cost-efficient products are still more in demand. This is changing and more companies in the country are emphasising the use of environmentally friendly products," Mr Moideen concludes. "You are seeing local authorities taking this seriously as well. Overall, things are moving in the right direction, and adoption of sustainable practices will continue to increase."
Facts
Jotun launched its Hull Skating Solutions through the adoption of a multidisciplinary approach combining data analytics, advanced robotics, and coatings experience in proactive fouling management
Fouling is what occurs when organisms attach themselves to the submerged parts of a ship
A thin coating of 0.5-millimetre slime covering up to 50 percent of a hull surface can cause greenhouse gas emissions to increase by 20-25 percent
The Hull Skating Solutions features the Jotun HullSkater, a robotic device that monitors and proactively cleans the hull whenever necessary
Jotun launched the Jotun GreenSteps in 2011 to improve and organise the company's sustainability efforts
For other interesting articles from our members, please visit our website.