It's Norwegian Constitution Day
The Thai-Norwegian Chamber of Commerce would like to invite all Norwegians and people with a connection to Norway to celebrate the Norwegian Constitutional Day, 17 May. This year, we are honoured to have our Ambassador, H.E. Mrs. Astrid Emilie Helle, offer a celebratory message to everyone.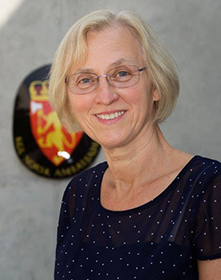 "On 17 May Norwegians everywhere celebrate our freedom, culture and constitution of 1814. We celebrate democracy, human rights and the rule of law. We take pride in our welfare state where income distribution and gender equality has brought social stability and economic prosperity.
Norway and Thailand have an excellent relationship – all the way back to King Chulalongkorn's visit to Norway in 1907. The cornerstones in our relationship are trade and investment, people to people contact, respect for international law and the United Nations Charter. We also share the belief that we need more innovative economic development for a greener and sustainable future.
The international order is under pressure. Russia's war in Ukraine has changed the security policy situation in Europe. The war has translated into energy crises – which has also accelerated the green transition.
The Norwegian economy is performing well, despite high inflation and the ongoing war. Production, employment and consumption are increasing, and so is trade and investment between Norway and Thailand. Thailand is a large market for Norwegian seafood, in particular salmon. Businesses such as engineering, telecommunications, and software solutions have steady growth. The Norwegian Government Pension Fund has invested approx. 2.9 bn USD in 161 companies in Thailand.
Negotiations on a Free Trade Agreement between EFTA and Thailand are progressing well, and the 5th round will take place in Oslo in June. Such an agreement will facilitate trade and investments.
The Norway-Asia Business Summit will take place in Bangkok 29.11 – 1.12 2023 and high-level officials and business representatives will attend. This will be a great opportunity to explore Norwegian world-class solutions to promote green transition based on renewable energy, bio-circular-green economy and climate friendly production.
Dear fellow countrywomen and -men; A very happy national day to you all! May the ties between Norway and Thailand continue to benefit our well-being and happiness."
The Thai-Norwegian Chamber of Commerce proudly presents a celebratory page in Bangkok Post's Business Section on 17 May 2023. We would like to take this opportunity to express our sincere gratitude to our May 17 Activities' Sponsors for their contribution to our communication campaign.
We hope that all of you are safe and are having a joyful day with your family and loved ones. Although we have to celebrate this day different from the previous year, we would still like to invite all of you to celebrate the day virtually with us via Facebook and Linkedin.
Lastly, we would like to encourage you to join us in our virtual celebration by sharing your May 17 Celebration posts or create your own congratulatory message for the occasion by using our hashtags #NorwegianConstitutionDay #TNCC. Let's share a joyful moment together! Let's celebrate for the Norwegian Constitution Day!
Gratulerer med dagen!
The Thai-Norwegian Chamber of Commerce Team
For other interesting articles from our members and chamber activities, please visit our website.